CUSTOMER
Kinderland is a 5,000 m² scaled replica of a real city with streets, shops, theater and its own currency. It is carefully adapted for children aged 4-14 and combines entertainment and education, with over 60 real-life activities for all kids to enjoy. Azerbaijan's first educational entertainment park, Kinderland is like a small version of Baku. In Kinderland, kids learn by playing. Learning becomes permanent once it is experienced. Where the perfect place for kids to learn by role playing and experiencing a little of real life.
PROBLEM
With so many visitors at certain times, it is difficult for park managers to make parents comfortable. Parents need to make sure they follow their kids without following them all over the park.
Park management wants to match child and parent wristbands easily and quickly.
The park management wants to monitor whether children and visitors use the emergency exits and prevent them in case of unnecessary use.
Children should be directed to the events of the sponsors and sponsor discount coupons should be given to the parents of the children participating in the events.
Payments made at the cashier must be defined on children's wristbands without the need for another interface.
In emergencies, assembly areas should be monitored.
Temperature and humidity in the data center and critical areas should be monitored, and alarms should be generated if necessary.
SOLUTION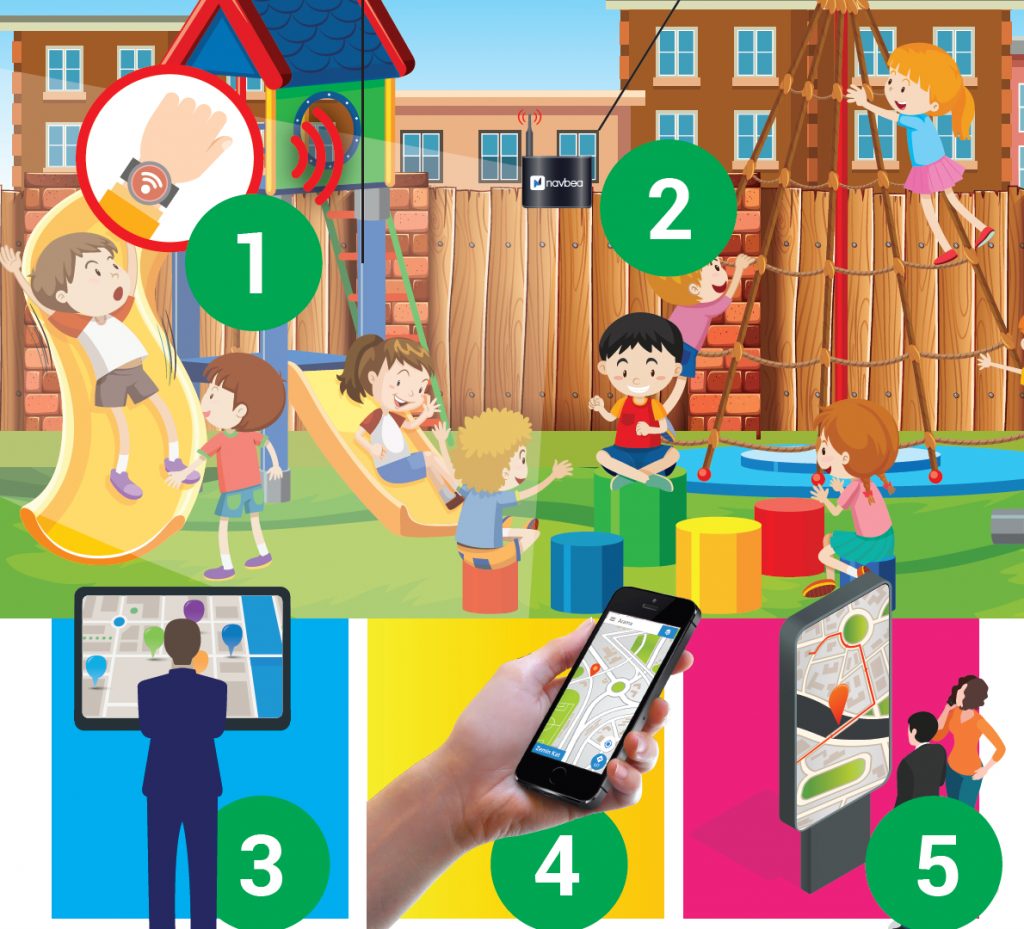 With Navbea children's wristbands, real-time positioning of children in the park and control of emergency exits were provided. In addition to the mobile parent application, parents can access their children's live locations by scanning their wristbands on the kiosk screens throughout the park.
Parent wristbands are paired with children's wristbands in seconds at the first registration. Thanks to the mifare chips in the wristbands, the operator wristbands can be scanned with a card reader and the wristbands can be identified to children and parents as paired.
With the personalized mobile parent application, sponsor opportunities and on-site event notifications can be sent to parents. Discount coupons sent through sponsors' mobile parent app if their children attend sponsored events.
With the integration of the POS and cashier module, credit purchases made from the cashier are loaded directly on the wristbands of the children and can be spent in all the facilities of the park.
In emergencies, the Navbea platform monitors and reports how many people are in the assembly areas and who are missing. For a possible rescue operation, the system automatically finds and displays the last positions of the missing persons at the scene.
The temperature and humidity levels of the data center and critical areas are continuously measured. When the levels reach the limits, Navbea creates automatic alarms and warns authorized personnel via e-mail, sms, push up notification.
DEVICES USED
100 Amount
Navbea Gateway
3.000 Amount
Navbea Wristband
50 Amount
Navbea Environmental Sensor
APPLICATIONS USED
Navbea RTLS & AI Web Based Platform
Employee Management module
Visitor Management module
Environment Management Module
Custom Mobile Application Solution
Navbea Integration Services
Key Criteria for Choosing Navbea
Seamless integration with fully documented Open API
Real-time decision making based on reliable and actionable data
Unrivaled scalability to deliver industry-proven monitoring projects of any size
The ability to easily set an unlimited number of zones that can be updated with one click at any time in the future to adapt to site conditions
Less maintenance and higher reliability compared to RFID supported systems
Long battery life
Short time to setup (only three weeks)