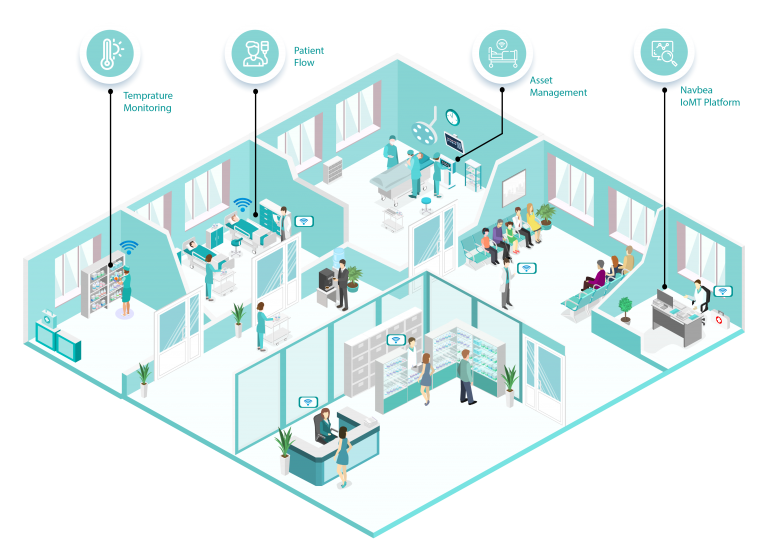 Internet of Medical Things (IoMT) IoT Based Environment, Patient, Personnel and Equipment Tracking
The inability to implement real-time monitoring, measurement and evaluation processes of people and valuable assets in hospitals causes great losses, especially safety and efficiency issues.
NavBea is an IOT (Internet of Things) platform that provides real-time monitoring of personnel, guests, valuable equipment and environmental sensor data with its various electronic equipment.
With the people, equipment and sensors defined in the system, the entire life cycle within the facility is monitored, recorded and retrospectively tracked.
How does it work?
Smart cards and sensors defined to patients and equipment transmit data to readers instantly.
These data are transmitted to the monitoring server via readers.
On the monitoring server, the data is processed quickly, watched live and recorded.
The application of Navbea RTLS (Real Time Location System) in healthcare field helps healthcare personnel to respond quickly in medical emergencies for patients.
The system can also be used to monitor the movements of patients, especially Alzheimer's and dementia patients, and to ensure their safety.
Today, hospital real-time location systems provide healthcare facilities with many opportunities to manage hospital services.
Some of the most important viable goals of the IOMT (Medical Internet of Things) model include monitoring the life cycle within the hospital, such as real-time positioning of patients, management of physician workflow, patient and staff safety, medical asset temperature monitoring, bed capacity management, valuable hospital equipment.